Sheet music catalogue
- strings
- brass
- choir
- organ
About the Publishing Firm
Gunnar Hahn Music Publishing Firm was founded in 1997 by the late Gunnar Hahn and his wife Elsa Hahn. The firm was previously in existence under the name Medihahn AB (1988-1997). Presently, the firm is run by Sverker Hahn, the eldest son of Gunnar and Elsa.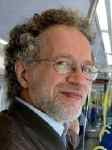 Sverker Hahn
Sheet music may be purchased from Gunnar Hahn Music Publishing Firm. Presently our catalogue of sheet music contains more than 200 of Gunnar Hahn's compositions and arrangements: music for flute solos, brass quintets, quartets of musicians, chamber orchestras, choirs and much more.
Some of Gunnar's music is also available at other music publishing firms, for instance the Christmas music Gladelig sjunger vi (We Sing with Joy), which may also be purchased from Gehrmans Musikförlag (Gehrman's Music Publishing Firm).