Home
Sheet music catalogue
- strings
- brass
- choir
- organ

Gunnar Hahn (1908-2001): Conductor, Pianist, Accordionist, Composer and Arranger.
Gunnar Hahn's specialty is folk music. For decades, he has appeared on the radio, both as a soloist and together with various ensembles, such as Spelmanskvartetten (quartet featuring violin, clarinet, bassoon and Accordion) and Folkdansorkestern (the Folk Dance Orchestra).
He has collaborated with the poets Lennart Helsing, Evert Taube and Bo Setterlind on arranging or composing ballads with secular as well as sacred context.
Read more about Gunnar Hahn ..
---
Gunnar Hahn Music Publishing Firm was started in 1998 by Gunnar and his wife, Elsa Hahn. The firm sells sheet music of Gunnar's arrangements and compositions.
Read more about Gunnar Hahn Music Publishing Firm ...
---
Design: Sverker Hahn. Translation: Christina Graham.
Updated 2007-05-11
The choral piece "Rondo Lapponico" (Lappish Rondo), based on "jojkar"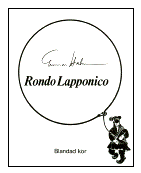 The Christmas music "Gladelig sjunge vi" (We Sing with Joy)